Discover 5 of the most famous games in history
Some of the most famous games in history have been the ones that have marked many people's childhoods for generations. Games are evolving faster and faster, kids, teens and adults are embracing this practice and are increasingly making this form of entertainment a major part of their lives.
Over the years, technological advances in games have become more and more precise, providing users with a deeper and more realistic gaming experience. But none of this would have been possible without retro gameswhich have earned a place in the market, in people's homes and today are a milestone in the industry.
That's why we tried to go back in time to the games and show the ones that captivated people and were the forerunners in this area, so that the games are what they are today: one of the strongest entertainment industries in the world.
1. Tetris (1984)
These days, this game may seem too simple and outdated. But since we are talking about a game developed in the 80s, it was very popular and one of the first to captivate computer users. Its simple mechanics were designed by the Russians and were originally created for the Electronica 60 PC.
The game consists of folding tetramino that randomly appear on the screen and the mission is to complete the horizontal lines by matching the pieces. When building a full line, it breaks up and the upper layers fall. The more lines formed and destroyed, the more points the player will earn.
The game is currently quite accessible and can be played on online gaming sites.
2. Super Mario 64 (1996)
Super Mario, the original computer game, the first Super Mario to offer three-dimensional (3D) graphics, took the world by storm, becoming almost a sign of the introduction of games into people's lives. It was developed and published by Nintendo and released in 1996 for the Nintendo 64.
Here the player controls the protagonist Mario, who travels through Princess Peach's castle on a mission to save her from the villainous Bowser. Super Mario 64 features 3D open-world gameplay, a dynamic camera system, and 360° analog controls. In this world with the freedom to move between 3D locations, the player needs to complete missions to complete the final task.
3. The Legend of Zelda: Ocarina of Time (1998)
The game was originally released for the Nintendo 64 in 1998, followed by versions for the Nintendo DS and Nintendo Switch. The action-adventure was the franchise's first 3D game. In the role-playing game format, it received great critical acclaim and success among users, gaining acclaim and widespread use to this day.
The game tells the story of a hero who goes on an adventure in search of holy relics in themed and complex temples in order to prevent the boss from gaining powers and using them for evil. The game updated 3D games by introducing new features such as a fixed aiming system and context-sensitive buttons. In addition, he brought wonderful characters, stories and narratives.
The game received awards and nominations at the time, and was considered by many players to be one of the best games in history. In Japan, the producing country, it sold over 820,000 copies in 1998 alone, became the tenth best-selling game of the year, and sold 10 million copies worldwide.
4. Tony Hawk's Pro Skater 2
Tony Hawk's Pro Skater 2 was developed by Neversoft and published by Activision for the PlayStation (PS1) in 2000, based on the skater of the same name. It was compatible with PC, Game Boy Color, Mac, Nintendo 64, Xbox and other devices. This is a skateboarding simulator with an improved formula, new tricks, tracks and settings.
In this game, you can enter a career mode, with challenges and championships, as well as multiplayer modes and a level editor that allows you to create your own tracks. It was recognized as the first portable 3D electronic game. The game has also received acclaim for its selection of songs that appear on its soundtrack.
5. GTA San Andreas
Grand Theft Auto: San Andreas was developed and published by Rockstar Games, a game that revolutionized and brought attention to the game series. main stream. Released in 2004 for the PlayStation 2 and later for other platforms, this is a popular game that all players have been waiting for to this day.
Set in the fictional state of San Andreas, the game tells the story of CJ in a gang war and police encounters full of missions. It is third-person and has an open world, allowing players to freely roam the city and complete missions whenever they want, or never complete them if they prefer.
The game received critical acclaim for its choice of music such as car radios, innovative gameplay, storytelling, and open world design. However, it also caused a lot of controversy at the time due to the sensitive topics it raised. However, it was the best-selling game in 2004 with 27.5 million copies and was considered one of the best games of all time.
Well, when it comes to discovering new ways to have fun online, it's important not to let your prejudice with old games limit you. These 5, one of the most famous games in history, were pioneers in many ways and certainly can still bring a lot of joy to your leisure moments. Worth adding to your list!
** This text does not necessarily represent the views of the UAI Portal.
Amateur music guru. Lifelong coffee scholar. Zombieaholic. Pop culture junkie.
WhatsApp already has a native Windows app that works offline with your smartphone – Computers
WhatsApp already offered a Windows application based on the Internet browser format, but smartphone is required to be online at all times in order for the messaging app to work. A new version of WhatsApp has been released that runs natively on Windows and promises to be faster and more secure for users. The app was in beta, but you can already access the final version for Windows.
The new application has been developed and optimized for use in the Windows operating system environment. And in addition to increasing the response speed, when sending and receiving messages, it intends to be more secure. But the main feature of this special application is that you can continue to receive notifications and exchange messages even when your smartphone is offline..
See the gallery for images of the PC application:
Installing an application that you can access from Window, requires you to complete the same pairing process via the smartphone app. So, once installed on Windows, you should access WhatsApp on your smartphone, click on the three dots of options, and click on connected devices.
BUT The Windows app will provide a QR code that you need to scan with your smartphone to connect the system to your account.. From there, you can use the Windows app without a smartphone. You users can now connect four devices at the same time to your account, keeping messages encrypted.
WhatsApp says that native application for Mac operating systems is still in developmentbut users can already access the beta version, with instructions for accessing which can be found at statement.
Amateur music guru. Lifelong coffee scholar. Zombieaholic. Pop culture junkie.
Transferring data from Android to another can be easy with MobileTrans. See how to do it!
Post content. More and more cell phones have a short lifespan, which means that device switching is a common occurrence for most people. What is little discussed are the difficulties that arise from there. You had everything set up nicely on your old phone, but now what?
There are many alternatives for transferring data from one cell phone to another according to the needs of the user. Most of them are difficult, and there are even completely unsafe ones, which further complicates the whole process.
To help you with these problems, in this text I will talk a little about a program called MobileTrans. With it, you can easily back up and transfer all kinds of data from one mobile phone to another.
What is MobileTrans?
MobileTrans is a program available for Windows and macOS that offers features for saving your data and transferring it between different devices. This includes transfer data from android to androidfrom Android to iOS, from mobile phones to PC, etc.
With MobileTrans, you can backup and transfer more than 18 types of data such as photos, videos, images, music, chats, and even apps. On mobile phones, it works for both the Android operating system and the iPhone.
In addition, the program provides security without deleting data from the original device or formatting the device. Its ease of use allows even people who are not used to dealing with such programs to use it with ease.
How to transfer data from Android using MobileTrans?
If you need to transfer data from an old mobile phone to a new device, this text is for you. Here I will teach you how to send data from one Android device to another using MobileTrans very simply and quickly. Come on!
Step 1: Download MobileTrans
The first step is to download MobileTrans. This can be done on the program's website through a free trial. Be careful to choose the correct version according to your computer's operating system.
As soon as the program is downloaded, you will notice the presence of a file with the name "mobiletrans" and the extension ".exe". Click on it, follow the instructions on the screen and wait for the installation to complete. The process takes only a few seconds.
Step 2: Run the program
Once the program is installed, you will run it. This can be done automatically (by clicking the Start button after installation) or manually by finding the MobileTrans icon. on your computer desktopthen double click and the program will open.
Step 3: Choose Options
Once you open the app, look for the "Mobile Phone Transfer" option that will appear at the top of the program between "WhatsApp Transfer" and "Backup & Restore". You will then see new options about the possible types of data transfer.
For our purposes in this text, you can choose the option "from mobile to mobile". Despite this, it can be said that you can also import data from a computer to a mobile phone (and vice versa) or even connect to iCloud (Apple's mobile phone cloud).
Step 4: Connect mobile phones
The next step is to connect two devices: the one that contains the data you want to transfer, and the one that will receive it. This must be done using USB cables connected to the computer. follow up the need for authorization requested by smartphones so that there are no problems with the USB connection.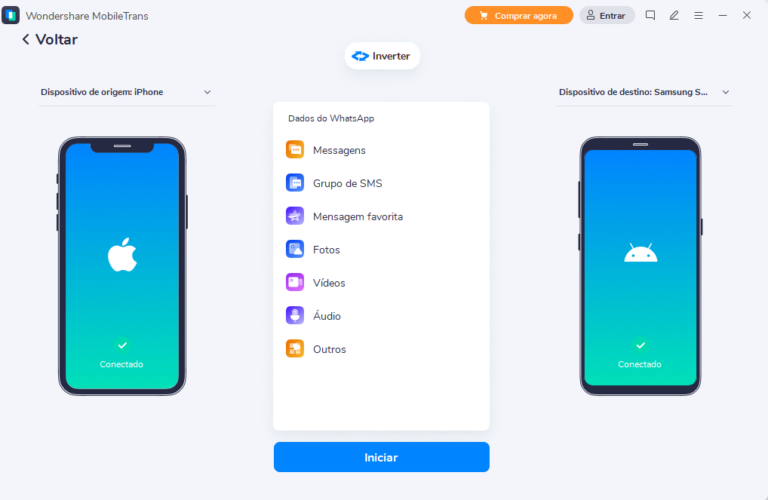 Step 5. Transfer Details
As soon as you connect cell phones, they will be identified by the program. Pay special attention to their position in the "source device" and "target device" fields and click the "invert" button if necessary. It is very important!
Before you start, you must select (in the center column) what content you want to transfer from one mobile phone to another. Options include photos, contacts, SMS, voice mail, videos, call logs, notes, voice messages, calendar, and reminders.
It may be necessary to adjust some details according to the specific devices, but MobileTrans does a great job of helping users every step of the way when needed. data transfer from one mobile phone to anotherso that you have no doubts in the process. Follow the instructions and click "Start" to transfer.
Step 6: Finishing
After selecting the options and starting the transfer process, just wait. The time will depend on the number of files being copied, so in some cases you will need to be patient. In all cases, no more than a few minutes will be spent.
It is very important that you do not turn off cell phones during the transfer, otherwise the data will be corrupted. You won't lose what you have on your old phone, but you will need to redo all the steps in the process.
And it's all! Very simple, right?
With MobileTrans, you never have to worry about the bureaucracy and hassle of switching phones again. Follow the instructions in this guide and in the program itself and enjoy your new phone!
Amateur music guru. Lifelong coffee scholar. Zombieaholic. Pop culture junkie.
Taking over the world with BTS: Samsung releases music video at Galaxy Unpacked 2022 | SEGS
Sao Paulo, Brazil – August 15, 2022 – Global pop phenomenon BTS is at the forefront of the music scene – and by dominating Galaxy Unpacked 2022, the group has the opportunity to please the world once again.
During this year's Galaxy Unpacked, Samsung Electronics unveiled two never-before-seen films featuring BTS in iconic public spaces in five major cities: New York's Times Square, London's Piccadilly Circus, Seoul's COEX, Tokyo's Shibuya, and Berlin's Kudamm. .
The first video, "Galaxy x BTS: Explore Your World with Z Flip4", explores the new possibilities that the Galaxy Z Flip4 5G* has to offer. The video, which featured BTS's "Yet To Come (The Most Beautiful Moment)", celebrated Samsung's new purple color and showed a future full of potential and opportunity. The second video was a new version of the clip "Over the Horizon 2022 by SUGA of BTS", a retelling of the song dedicated to the tenth anniversary of the iconic Samsung ringtone.
With this grand new campaign, Samsung is telling its users loud and clear: no matter what the future brings, when we dream big, our best moments are yet to come.
Samsung invites you to watch and enjoy these videos. At any of the points where the videos were presented, simply scan the QR code on the billboard and your smartphone will automatically play the music in sync with the screen of the hall.
Relive the magic of this event by viewing photos from the world premiere below, and check out more news from BTS and Galaxy Unpacked on Samsung's official YouTube channel.
* Enabled for 5G technology. Actual speed may vary by country, carrier, and user environment. Check with your carrier for availability and details. Download and streaming speed may vary depending on content provider, server connection and other factors.
Buy Samsung Electronics Co. Ltd.
Samsung inspires the world and shapes the future with revolutionary ideas and technologies. The company is reimagining the world of TVs, smartphones, handheld devices, tablets, digital equipment, network systems, memory, LSI systems, semiconductor and LED solutions. The latest news can be found in the Samsung News section at https://news.samsung.com/br.
Amateur music guru. Lifelong coffee scholar. Zombieaholic. Pop culture junkie.