Abilio says this year's elections will determine his political future
Federal pre-candidate former Cuiab councilor Abilio Junior (LP) said this year's electoral dispute will play a fundamental role in his political future, whether as a candidate in the 2024 municipal elections or even retiring from public life.
A former candidate for mayor of Cuiaba in the 2020 elections, Abilio has been out of office since then, and due to bitter controversy that year, there are rumors behind the scenes that he may return as a candidate in the next election.
According to Abilio, each election is unique and has its own rules, and it is impossible to predict what he will do in two years.
"What will the elections of 2024 be like? Will he have better or worse names? Who will be the candidates? I dont know. This issue of predictability is difficult to resolve. In 2020, I had no idea that I could be a candidate for federal deputies. What I'm going to do in 2024 is unpredictable," he said in an interview. Radio Metropolis FM.
"What I know for sure is that this year's elections will be decisive for my political future. If the result is A, you have a project. If the result is B, it may be another project. And it may even be that I do not continue to engage in politics. It all depends on the electoral process this year," he added.
The former councilor is now part of the PL's so-called "death plate", which has important names in dispute, such as already MPs and pre-candidates for re-election Nelson Barbudo and José Medeiros, as well as a former MP candidate. Senate Coronel Fernanda.
Abilio stated that he had already begun to travel around the state exploring his candidacy and said that if elected, he intended to take the same position in the Federal House that marked his passage through the Legislative Assembly of Cuiabano.
"I noticed that there are not enough public inspectors, federal deputies who check. All municipalities receive federal funds. These are funds for food, health care, education, public works, but the federal deputy does not go there to verify the application. I have never seen this," he said.
For Abilio, there are not enough political agents in the state who check whether the funds and sent amendments are used correctly.
"When we propose to become a federal deputy, we want to take with us to Brasilia and bring from Brasilia to each municipality the role of a checking agent in order to achieve results," he added.
Read more:
Medeiros sees a "plate of death" in the LP: "I will help myself in the voter"
General internet buff. Hardcore music maven. Typical foodaholic. Friendly student.
For Damaso, politicians must act transparently and honestly in order to earn the respect of the population.
"I want to be a politician only as long as I have the respect of the population, and there is only one way to earn respect: to do serious work, transparently and honestly." The statement was made by pre-gubernatorial candidate Osires Damaso (PSC) in a press interview in Araguaín during his last visit to the city, this Friday 24. In addition to meeting with communication specialists, he met with the authorities and political leaders of the municipality to strengthen his name in a dispute for state government.
Asked about his motives for running for president, Damaso talked about his experiences as a three-term state deputy, Legislative Assembly president, as a businessman, and the beginnings of his personal journey. "And this experience allowed me to get acquainted with the resources that reach the state, their potential and the real needs of the inhabitants of Tocantins," he explained.
"We need a government that truly runs an administration focused on economic development, growth and the quality of life of our people. We need industrialized, modern and respected Tocantinas. I am sure that with my experience I will have excellent management, giving people real opportunities," Damaso said.
The pre-nominee also advocates a partnership between state government and municipalities to develop public policies that primarily benefit those living in situations of social vulnerability. "I want to implement the program in partnership with city halls, municipal councils and leaders so that we can deliver basic food packages to the population, restoring the mood of many families. But, in addition, we need a state program so that these people can enter the labor market," he stressed.
As for the progress of the campaign, Damaso stressed that he was "very pleased with the receptivity of the population and the support received." Among his main supporters are state deputy Junior Geo (PSC) and former mayor of Palmas, Carlos Amastha (PSB), who served two terms. The joints are in full swing and new weight bearings should be announced soon.
General internet buff. Hardcore music maven. Typical foodaholic. Friendly student.
Marcos Braz responds to social media politics after Maracanã controversy
BUT Negative disagreement with Vasco over the use of Maracana rocked social media on this Sabbath day. Tarcisio Motta, Councilor of the City of Rio and federal candidate, published a publication saying that the stadium is for all fans. An irritated Marcos Braz, Vice President of Flamengo Football Club and also an adviser, responded to the politician.
+ Who is better: Botafogo or Fluminense? Watch the player vote in the LANCE newsroom!
– Maracana is public! It was built and renovated (several times) with government money! Its concession cannot run counter to the interests of all citizens. Denying the consortium is baseless, absurd and FORCE US TO ACTIVATE MP. Maraca for all fans," Tarcisio wrote on Twitter.
– When it comes to paying operating costs, no, – said the vice-president of Flamengo.
When you need to pay maintenance costs, this is not the case.

— MarcosBrazrio (@marcosbrazrio) June 25, 2022
+ The state government observes the violation of Flamengo and Fluminense and requests the release of Maracana for Vasco
The controversy began after Vasco applied for the loan of Maracanã against Sport in a match valid for Serie B on 3 July. A stadium consortium led by Flamengo and Fluminense rejected the request.
The clubs' decision caused a huge uproar, and the state government decided to connect to the track. The stadium soap opera is divided and promises to open new chapters in the coming days.
General internet buff. Hardcore music maven. Typical foodaholic. Friendly student.
Adelio's view of Bolsonaro and politics
In letters he wrote from a federal prison in Campo Grande, Mississippi, where he is subjected to security measures for a knife attack on a then-presidential candidate. Jair Bolsonaro (Poland)practicing in 2018, Adelio Bispo reveals what he thinks of the politician who carried out the attack in the midst of an election campaign. Among the scattered statements that keep turning against Freemasonry, Adelio says that Bolsonaro is the "Antichrist" and even mentions the episode of the knife wound. In 2019, justice found him not guilty due to mental illness.
"And the more Bolsonaro is the Antichrist about (incomprehensible) the predecessor of the beast, which was and which is not, comes and does not come from royal families, they are commoners and anti-Semites and set traps and traps to catch the friendship of Israel (incomprehensible) hypocrisy (So). Antichrist – Brazilian Powers (incomprehensible) the bodies of people and the elements of the Earth. In addition, the son of the seventh is one of the evil antichrists according to Freemasonry (incomprehensible) to the terrible forces in it, and the Masons have, as something of a great experience, the evil that I saw (incomprehensible) because of the knife antichrist system and many natural antichrists, and seventy of them can be born throughout Brazil and reign for seventy years, "says the passage of scriptures.
In another, in which he also quotes the President, Adelio writes, again rambling about Freemasonry, that "Bolsonaro appreciates and uses recycled plastic in everything, in toys and (incomprehensible)". He continues: "They used our new, unrecycled bodies to make terrible stuff. Antichrist is basically clan processing(clans) freemasonry with bad energy, like all recycled plastic. This is the world of the dead, which Freemasonry owns and knows the details.
In addition to the current president, past presidents Luis Inacio Lula da Silva e Fernando Enrique Cardoso also appear in writings. While attacking Freemasonry for no reason, Adelio also opposes Haitian immigrants, who, in his opinion, are taking away jobs from Brazilians, especially in the southern region of the country. "It's obvious that Lula he is a loyal protector of these people and would even build houses for Haitians for free, and not for Brazilians, "Adelio complains. "Brazilians have no chance in Balneario Camboriu, Florianopolis and Blumenau. Even in the municipal civil service they put janitors in positions, even in services such as pharmacies and even hospitals, although they do not speak (So) our language. in management FGS it is the turn of the Philippines and Taiwan (Taiwan) and never women, only men with a socialist and anti-left character, like Haiti," he says.
public policy
Adelio also criticizes some government policies in his letters, such as Fies, a higher education funding program created under the governments of PT. "Fies has to end, the costs of Fies are basically the same as the costs of 64 federal public universities (…) It is not good to mix classes and this is what the government has done to the universities. They mix commoners with nobles, which God doesn't do," he says.
"O penitentiary system, it is good and viable that 100% of prisons have semi-open, all judiciaries agree with this, and a street sweeping system for a semi-open prisoner with a clear reward and a cost even above the norm, requiring the quality of city cleaning and the removal of current janitors from circulation and, obviously, attracting prisoners to employment and socio-economic integration," Adelio suggests. "Also, we need dogs for therapy purposes, and puppies can be sent to prison without going through psychiatry, as they don't approve of it."
The texts analyzed by the forensic psychiatrist Guido Palomba at the request of the VEJA are full of psychopathological elements, according to the specialist, indicating a serious violation of thinking, both in the course of thoughts (what is technically called disaggregation) and in their content (harassment). This last characteristic appears in the form of delusions of persecution, as in the passages in which Adelio refers to Freemasonry.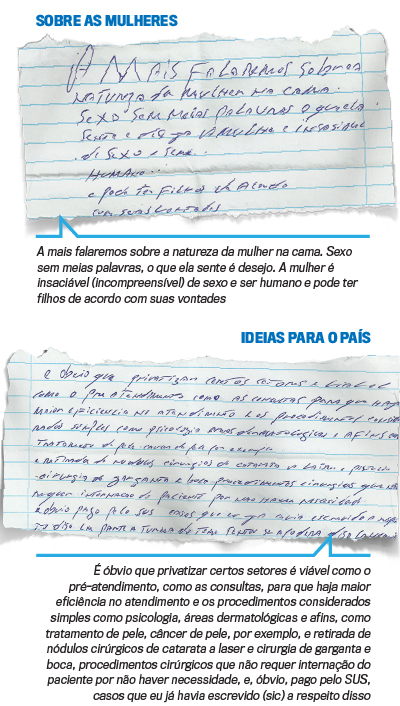 Continuation after commercial
General internet buff. Hardcore music maven. Typical foodaholic. Friendly student.