Stephen Da Costa karateka. Another gold medal with a Portuguese heart
A Portuguese-French man with Minho roots, he made history as the first Olympic male karate champion in France. For the "Little Prince" Moselle, Portugal is the "second home", and Cristiano Ronaldo is his landmark.
Tokyo 2020
A Portuguese-French man with Minho roots, he made history as the first Olympic male karate champion in France. For the "Little Prince" Moselle, Portugal is the "second home", and Cristiano Ronaldo is his landmark.
"Desire is power." This has always been the motto of 24-year-old French descendant Stephen Da Costa, who on Thursday was named the first Olympic champion in men's karate in the 67kg category.
This is the first time this sport is included in the Olympic Games, and the gold was brought to France by Stephen Da Costa, one of the world leaders in karate, the son of Michel dos Santos, a Portuguese father already born in France, in Mont Seine. Martin, Moselle, border with Luxembourg and French mother.
The French champion of Portuguese origin will be the de facto standard-bearer of the French delegation at the closing ceremony of the Olympic Games in Tokyo, the French National Olympic and Sports Committee (CNOSF) announced today.
Known as the "Little Prince of Karate", Stephen Da Costa is one of the sport's most prominent figures, already a world champion, a trophy won in 2018 and a two-time European champion. And now the Olympic champion.
"I dream of making history at the next Olympic Games. Who wouldn't want to win a medal at the most important sporting event in the world? "- said the new Olympic champion in an interview with Contacto in 2020, admitting that his motto from childhood was" to want is to want. " to be capable of".
---
---
On Thursday, the dream of this Portuguese descendant came true, with roots in Arcos de Valdeves, where his grandparents are from.
Karate is part of his family, his usual trainer is his father, Michel dos Santos, his twin brother Logan and older brother Jesse also fight, defend the colors of Mont Saint Martin, five kilometers from Rodange, and they are all international across France … …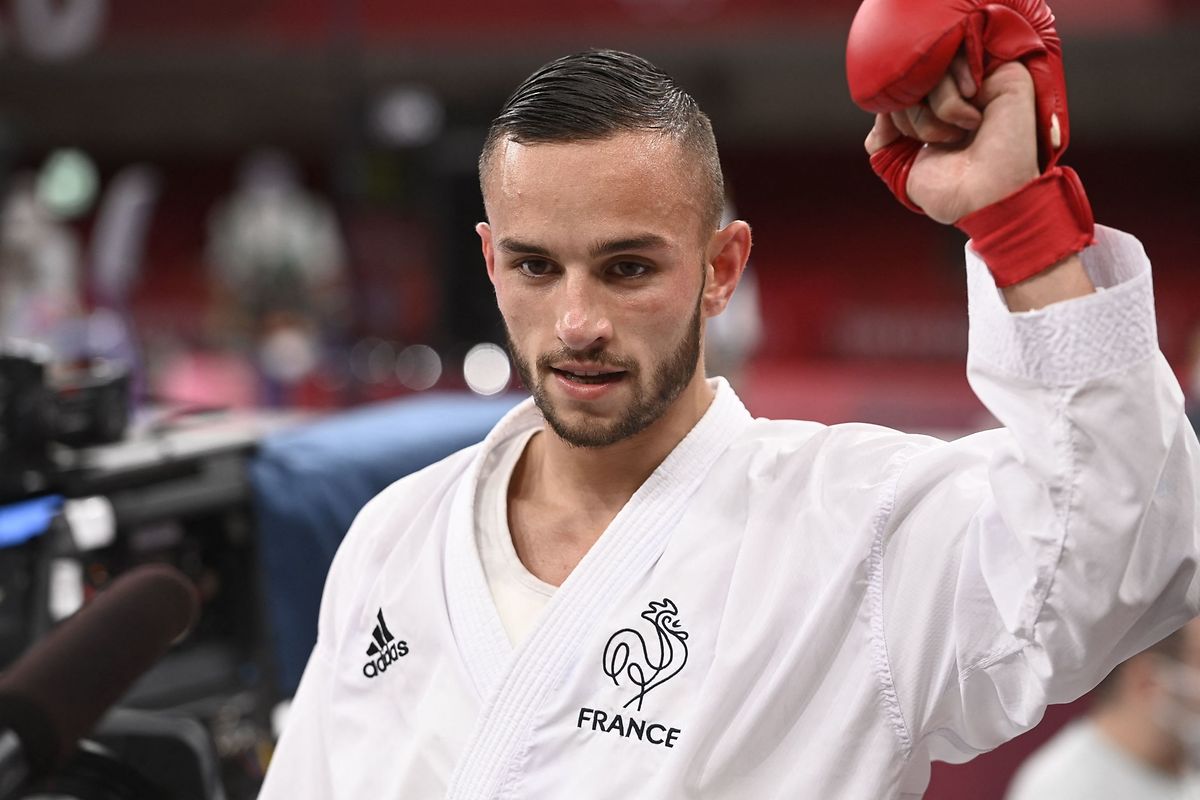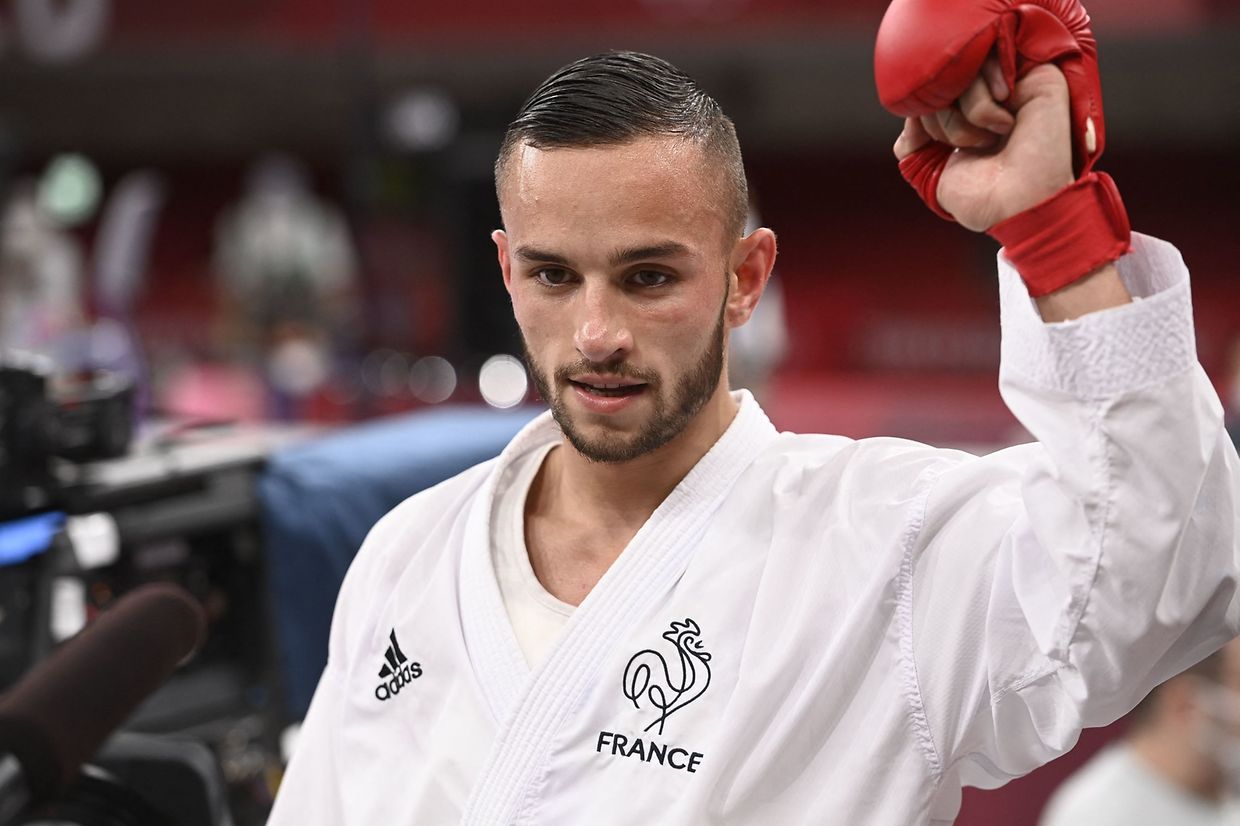 AFP
AFP
AFP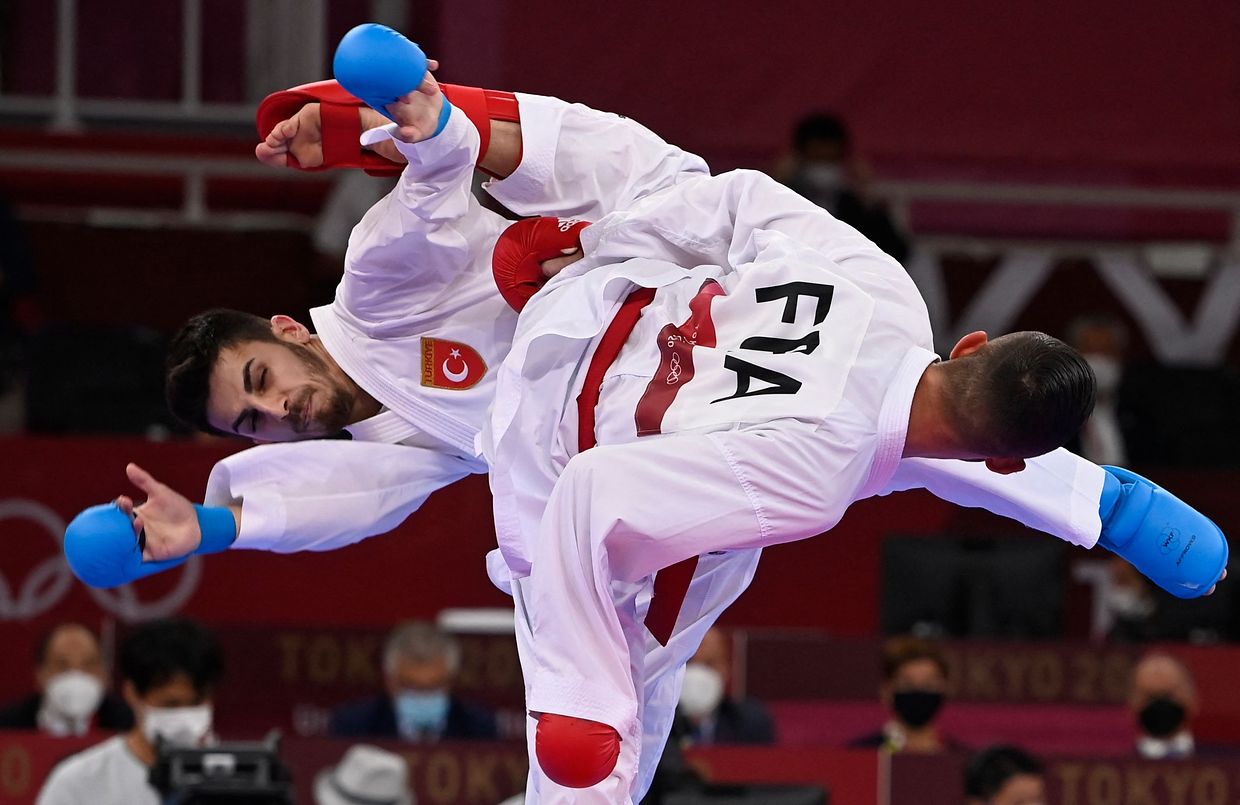 AFP
AFP
AFP
AFP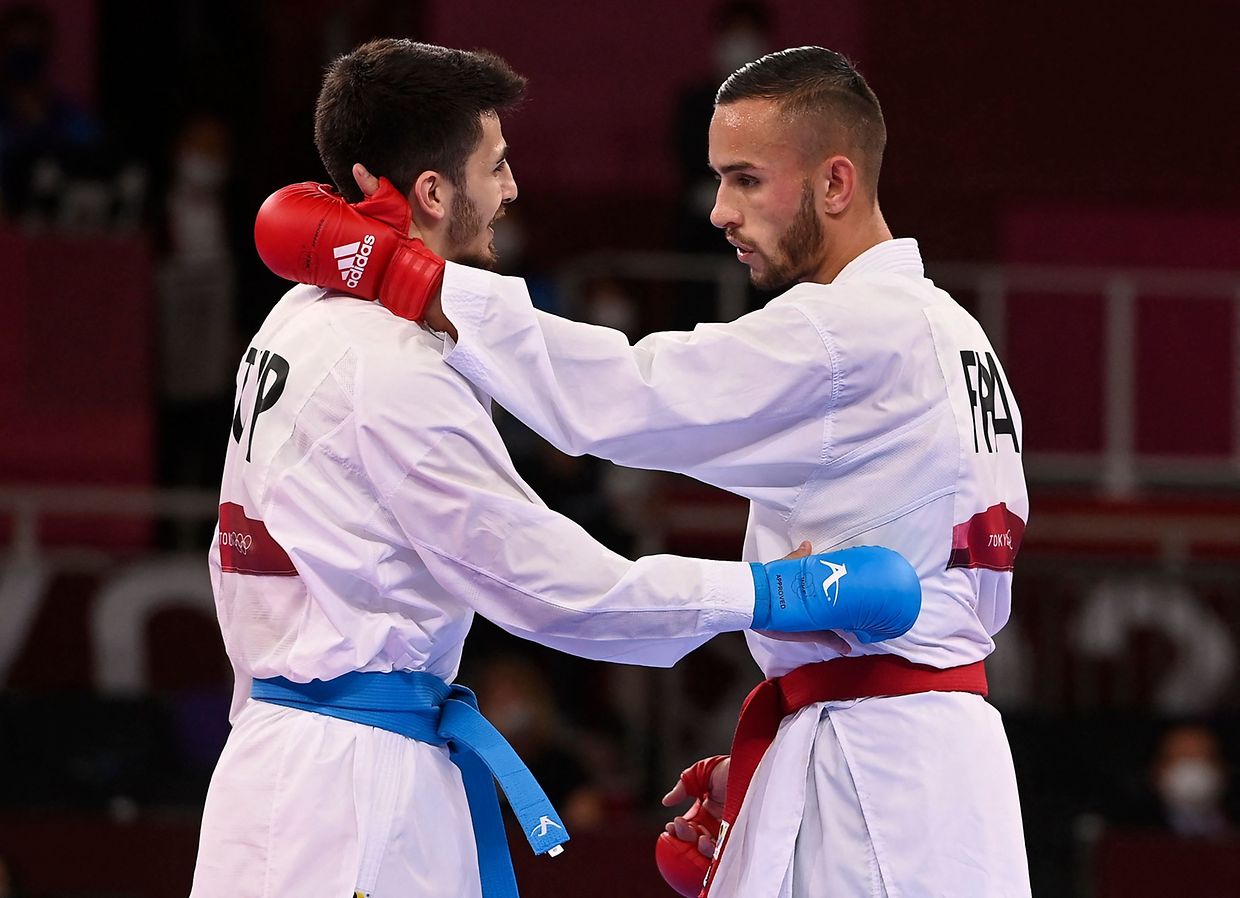 AFP
AFP
AFP
AFP
AFP
AFP
AFP
AFP
Interestingly, the father, who trains his three sons, only fell in love with karate after his sons started the sport.
Back in 2020, The Little Prince of Karate told Contacto, "I work hard to do my best. In my head, I only think about winning. I'm excited and very motivated. " The commitment and motivation that earned him the gold medal in Tokyo by beating Turkey's Eray Samdan 5-0.
"When I was younger, I also played football like other kids, and even handball, but then I only focused on karate. They started to notice me, and at the age of 14 I was first invited to represent the French national team. Since then, everything has become more serious, and sport has become an integral part of my life, "the Olympic champion reminded Contacto in 2020.
Portugal – "second home"
Despite being born in France, Portugal holds a special place in the heart of Stephen da Costa.
"Portugal is like a second home," it is "the cradle of our family, although my father was already born in France," he confessed to Western France during his stay in Lisbon in April this year, where he competed and won. The family stayed at the paternal grandparents' home in Arcos de Valdeves, but karate dominated Steven's life, who admitted he didn't have "many opportunities" to travel to Minho's.
Cristiano Ronaldo "handbook"
Portugal is at the center of the Portuguese-French community, and Cristiano Ronaldo has always been their guide, as he confessed to Contacto:
"Cristiano Ronaldo is an incredible athlete. It's amazing how he manages to stay on top for so long. He is 35 years old and trains with the motivation of someone who is just starting his career. He has already won everything and continues to constantly surpass himself. For me, this is a great example of overcoming difficulties. "
Now also the "Little Prince of Karate" has certainly become an example of "overcoming" and a main reference point for many young French and Portuguese descendants when they brought Olympic gold from Tokyo to Mont Saint Martin, on the border with Luxembourg.
In this edition of the Olympic Games, Portugal has already won five medals, the best in history: Picardo's gold in the men's triple jump, Patricia Mamon's silver in the women's triple jump and bronze medals in judokas Pedro Fonseca and Fernando Pimenta. in canoeing. But Steven Da Costa's gold medal for France also has a Portuguese heart.
Follow us no Facebook, Twitter and receive our daily newsletters.
---
Proud web evangelist. Travel ninja. Creator. Freelance food nerd. Passionate bacon fanatic.
Real Hospital Portugus promotes Pink October campaign
In order to promote the prevention of breast cancer, the most common type in the world, surpassing lung cancer, Real Hospital Português is running the Pink October campaign. Early diagnosis is essential for quality of life, successful treatment, and increased chances of a cure. Thus, the October Rosa do Real Hospital Português will be divided into three areas: social action, an educational campaign and a running and walking circle.
With the completion of 50 biopsies in patients from the public network, the institution will facilitate access to the main examination for the diagnosis of breast cancer. "We will positively impact the lives of these patients with our work. Real Hospital Português is a center for the early detection, diagnosis and treatment of breast cancer, and together we will take an unprecedented initiative by providing services to the community," emphasizes Luciana Limongi, a mastologist. The campaign will be held in partnership with the Real Instituto de Mastologia (RIMA), Real Patologia and Real Imagem, which have recently received the PADI Seal – Accreditation Program in Diagnostic Imaging.
Rosa's October Run and Walk Scheme aims to warn of the importance of early breast cancer detection and encourage physical activity. According to the National Cancer Institute (Inca), about 30% of all cancers diagnosed in Brazil can be avoided through lifestyle changes. "Behavioral risk factors such as obesity and lack of physical activity are directly linked to the occurrence of breast cancer. That is why it is so important to develop healthy habits," emphasizes the mastologist. The sporting event will take place on October 29, starting at 16:00, from Cais da Alphandega and will cover a 5 km route. Registration is open to the public at soucorredor.com.br.
In addition, the educational campaign "To be strong, you must have a chest, take care of yourself and overcome yourself" painted the institution and social networks in pink, recalling that early diagnosis increases the chances of successful treatment by 90%. Therefore, it is necessary to conduct regular examinations and consult with a mastologist.
Photo: Divulgao.
Proud web evangelist. Travel ninja. Creator. Freelance food nerd. Passionate bacon fanatic.
Another Portuguese club declared insolvent
After Académica OAF, another Portuguese club is in a delicate position.
SAD CD Cova da Piedade, a team that played in the Portuguese Second League until 2021, has become the latest Portuguese sports organization to file for insolvency.
After being relegated due to failing to submit all legal paperwork to play in the Segunda Liga in 2021/2022, Margem Sul's SAD ended up playing in Ligue 3 and decided to suspend seniors this season and juniors. football 19.
SAD do Cova da Piedade has been declared insolvent by the Barreiro Court of the Lisbon District Court of Justice, as announced today by the Almada Municipality Club, which claims to be "one of the largest creditors" of the company. https://t.co/0R0glB7nsH

— Football 365 (@football365) October 6, 2022
In a conversation with Lusa, club president Paulo Veiga said he was waiting "further position from the club's legal department." However, the club, which is also one of the largest creditors of SAD do Cova da Piedade, is confident of a football asset as early as next season: "Guaranteed next season we will have a senior team and a junior team representing the colors of Cova da Piedade."
Learn more about Bola na Rede and Moosh!
BUT Mush strives to stand out from the crowd by opening doors to new and innovative experiences. OUR Mush is changing and entering a new era, a new identity, a new logo, but the same trust and the same security to safely accept deposits and transactions from consumers. Our house also has a customer support team available at any time to resolve any issues. With a strong investment phase in Portugal, Mush presents itself with a redesigned website, with new products and new experiences, with an eye to the future – keeping the identity and the idea of ​​achieving the goal: hitting the target Mush!
Bola na Rede is a project started on October 28, 2010 at the Escola Superior de Comunicação Social. Since then, we have been trying to provide you with the best sports vision at the national and international levels through opinion pieces as well as breaking news. On October 28, 2019, we decided to expand our reach by launching live broadcasts on the channel. BALL IN THE TV NETWORKNo YouTube. In addition to direct, we also have a lot of information through our social networks and in various models podcasts. Operating Systems podcasts from Bola na Rede are available on a wide variety of platforms and aim to give you a little bit of everything about the world of sports in general. Currently we can offer you the following content:
Podcast Mourinhos vs. Guardiolas" – Program of national and international sports news.
Podcast "Law of the Market" Content about the latest transfers and transfer market rumors from the world of football.
Podcast "Talk about the ball" South American Football is here on this program that aims to bring you the latest from the major South American leagues.
Podcast "Out of the Ring" WWE is a company Tuevacationer media in the world and in this program we follow in detail every event of the company headed by Vince McMahon
Podcast "Ball of other times" – In that podcast we want you to come with us on a journey through the past of the football world. Here we remember players, teams or competitions "from another time".
If you'd like to learn more about the project, make a suggestion, or even submit an application to become a writer, commenter, or moderator, send us an email at [email protected] The ball is in your court and we are counting on you!
Proud web evangelist. Travel ninja. Creator. Freelance food nerd. Passionate bacon fanatic.
Prize for the Portuguese. Andre Silva is Champions League Player of the Week
BUTndre Silva won the competition and became the best player of the week in the Champions League, informed UEFAthis Thursday.
The former Porto striker scored in Jota's 3-1 victory over Celtic Leipzig, scoring a brace in a match that was signed after his Portuguese compatriot equalized.
In addition, Andre Silva also provided the assist for Nkunku, scoring the first goal of this Wednesday's game in which huge show of foreign fans.
In addition to the Leipzig striker, Di Maria (Juventus), Bellingham (Borussia Dortmund) and Di Lorenzo (Napoli) also fought in the fight for the prize, but it was the Portuguese who managed to smile after voting for the third round of the competition, the famous This Thursday is the fair.
Read also: Diogo Costa and Andre Silva named to Champions League Team of the Week
See also: Andre Silva among the nominees for the title of the best player of the week in the Champions League
See also: double dose. Andre Silva returned to celebrate and sentenced doubts
See also: Andre Silva took advantage of Hart's colossal mistake and responded to Jota's goal
Proud web evangelist. Travel ninja. Creator. Freelance food nerd. Passionate bacon fanatic.